Where Victoria's emissions come from
The main source of Victoria's emissions is burning fossil fuels – like coal, oil, and gas – for energy and transport. In 2019, the energy sector accounted for 70% of Victoria's emissions, transport was responsible for 25%, agriculture contributed 17%, industrial processes and product use 4%, and the waste sector a further 4% of Victoria's emissions.
Victoria's forests and natural systems absorb carbon dioxide (CO2) as trees grow and release greenhouse gases when trees are removed. In 2019, the sector absorbed significantly more carbon dioxide (CO2) than it released. Overall, the sector absorbed around 19% of Victoria's emissions in 2019.
Victoria's total net emissions are the sum of emissions from all sectors minus net absorption by the Land Use, Land Use Change and Forestry (LULUCF) sector. In 2019, the state's total net emissions were 91.3 million tonnes of carbon dioxide equivalent (Mt CO2-e).
There is a 2-year lag between each reporting year and when the data is available for use. Victoria's latest greenhouse gas emissions data, published in 2021, is for the 2019 reporting year.
Victoria's greenhouse gas emissions by sector in 2019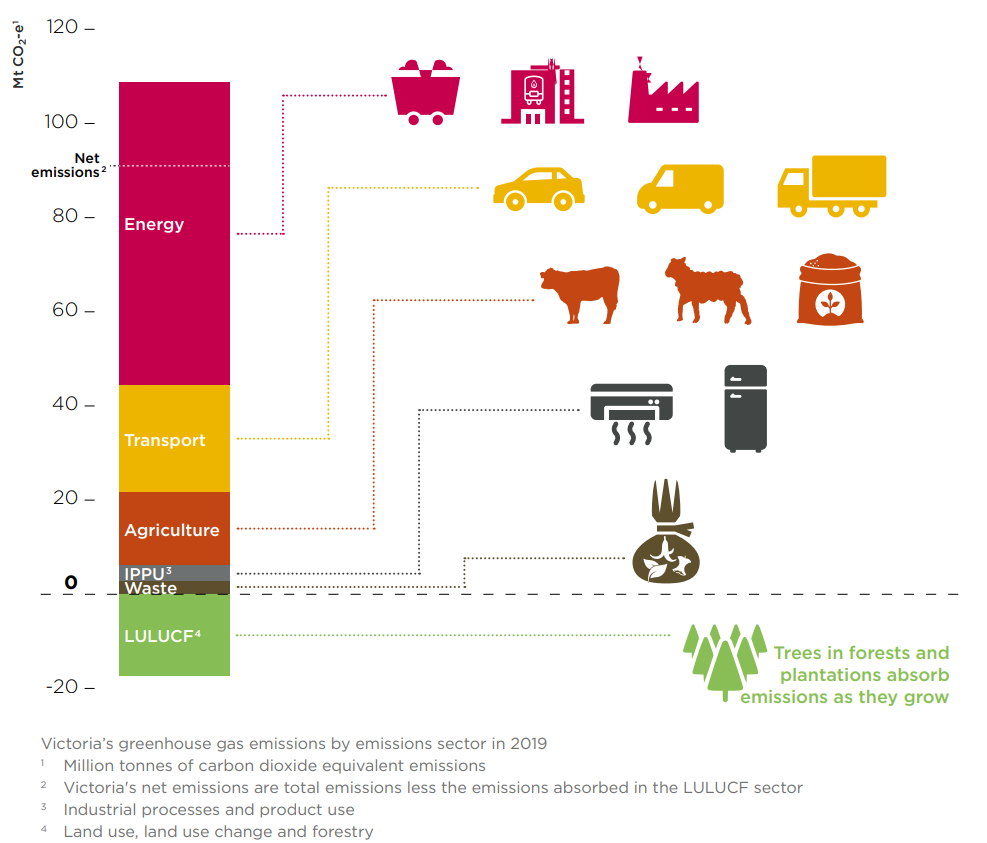 Progress towards net zero emissions by 2050
Victoria's emissions fell 24.8% (30.1 Mt CO2-e) between 2005 and 2019. This means Victoria's target to reduce emissions by 15 to 20% below 2005 levels by 2020 has been met ahead of schedule and then beaten.
Victoria's emissions reductions and targets for emissions reductions are measured against the level of emissions in 2005, as required by the Climate Change Act 2017.
Greenhouse gas emissions resources
The Victorian Government publishes a report every year on Victoria's greenhouse gas emissions. The report uses emissions data prepared by the Commonwealth Department of Industry, Science, Energy and Resources (DISER), in accordance with internationally agreed rules.
To learn more about Victoria's emissions and how we are tracking towards net-zero emissions by 2050, see the following resources.
Downloads
Previous editions of the Greenhouse Gas Emissions Report are available:
Emissions data published by the Commonwealth, including descriptions of emissions accounting methodologies:
Annual inventory methodology updates
DISER reviews and, as necessary, revises national and state/territory greenhouse gas data annually to ensure the data is produced using the latest international methodologies; and to reflect improved estimation methods and new sources of information.
To maintain consistency of data series across time, when revisions occur, past emissions estimates are recalculated for all years in the historical record to 1990.
For the 2019 report, the most significant updates include:
Soil carbon – improved modelling of soil carbon processes and soil factors (such as the decomposition rate of materials in soils); and a move to smooth data over 5 rather than 10 years in relevant LULUCF categories
Harvested native forests – use of more accurate spatial modelling of forests and improved historical harvesting data from VicForests
Hydrofluorocarbons (HFCs) refrigerants – improved data on the rates of leakage of refrigerants from equipment and appliances, and the rate of retirement of equipment and appliances
Global warming potentials (GWP) – GWP values have been updated to those published in the IPCC's Fifth Assessment Report (AR5) for a 100-year time horizon (previous reports applied GWP from the IPCC's Fourth Assessment Report).
Appendix A of the Victorian Greenhouse Gas Emissions Report 2019 provides further details of these and other updates.
Contact us
Contact us via email climate.change@delwp.vic.gov.au
Page last updated: 01/11/21