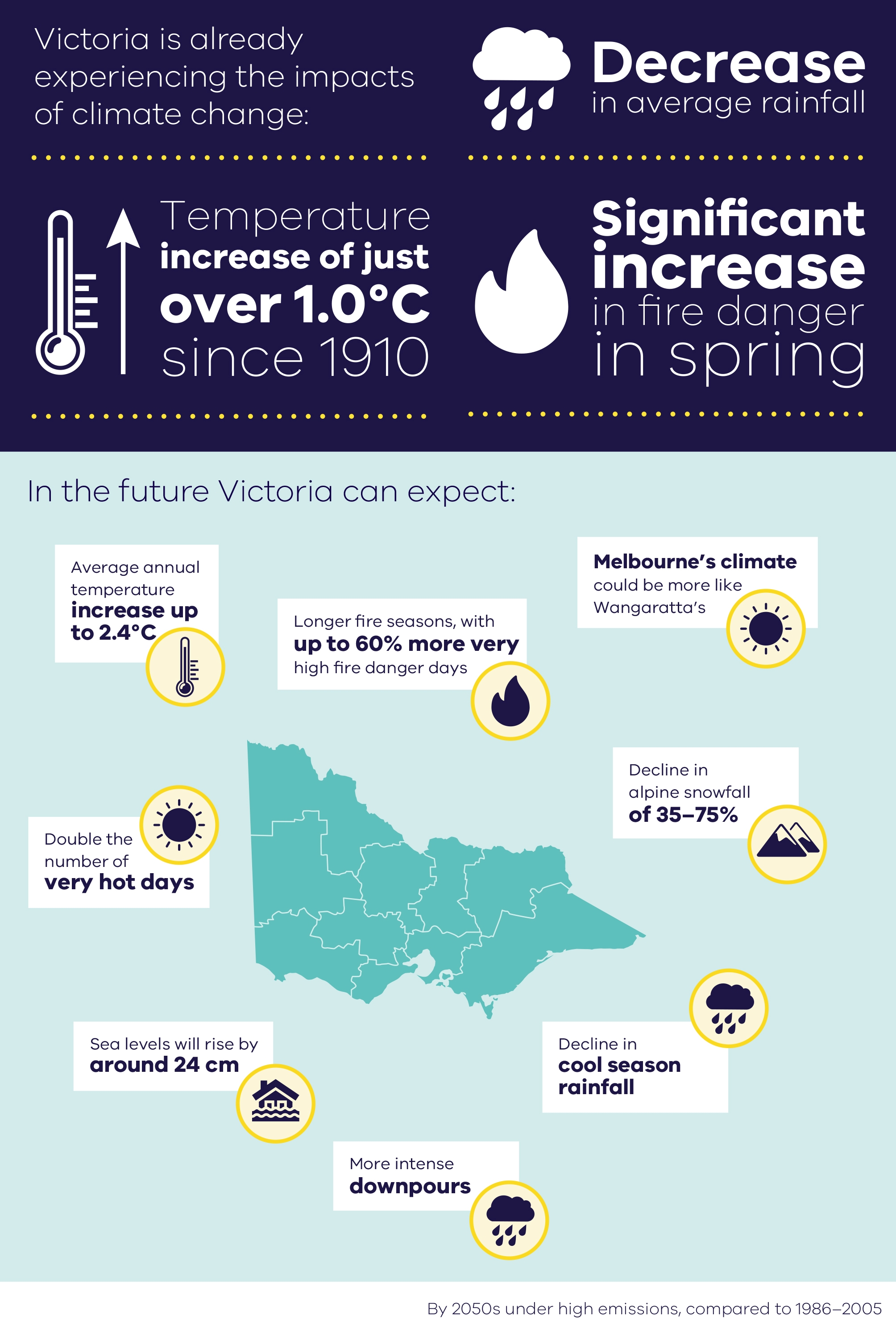 Victoria's changing climate
Victoria's future climate
Climate models help us to understand the changes that are already happening and provide guidance on the changes to come. Climate projections suggest that Victoria will continue to become warmer and drier in the future.
Comparison of observations and projections in Victoria suggest that temperature has been tracking towards the upper limit of projections while winter rainfall has been tracking towards the drier end of projections.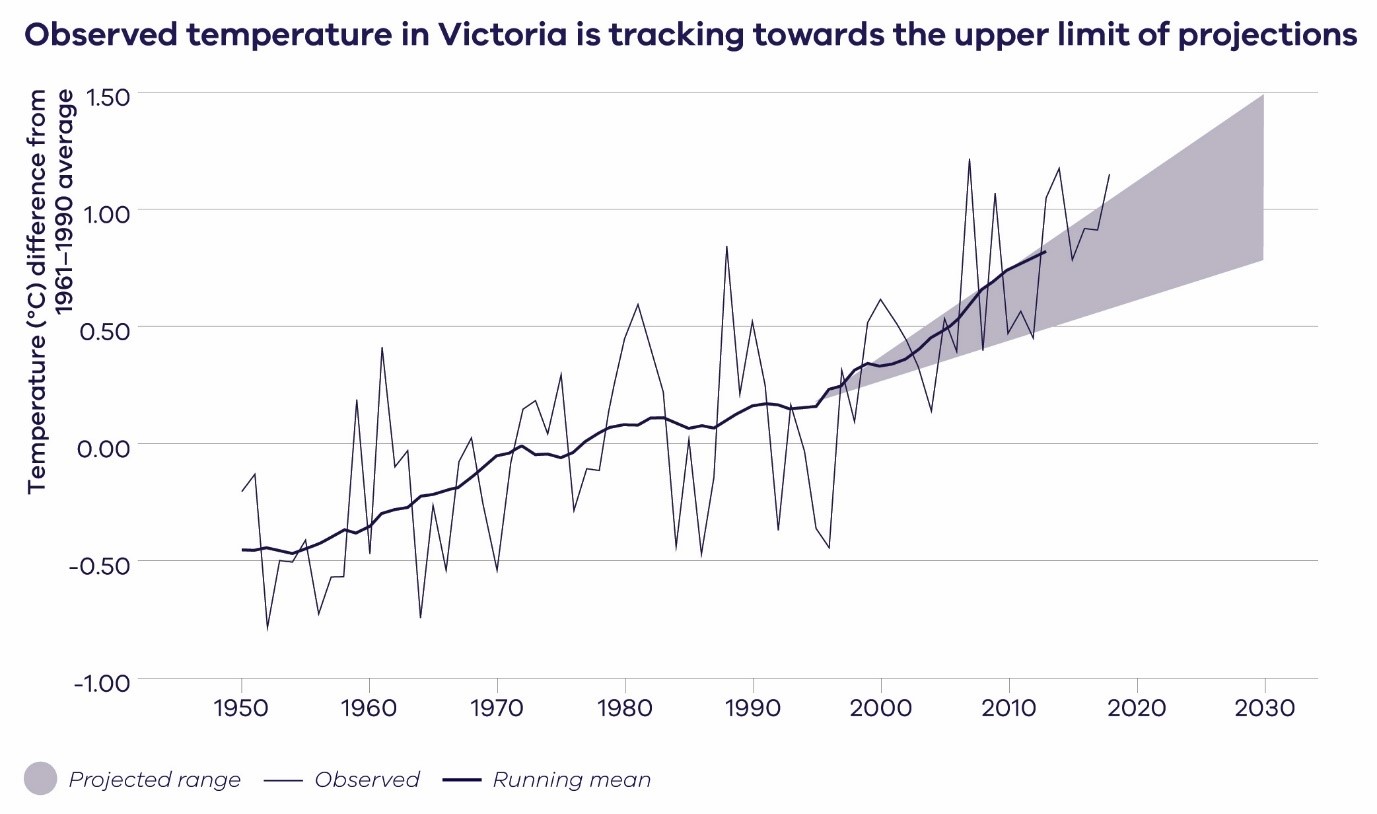 Comparison of the observed average annual temperatures for Victoria with the projected range of change. Shown are observed temperature difference from 1961-1990 average (thin black line) plus the 10-year running average (thicker line) and the projected temperature change to 2030 across climate models and emissions scenarios (relative to a 1986–2005 baseline period). For more details on the method, see Grose et al. (2017b) (CSIRO, 2019).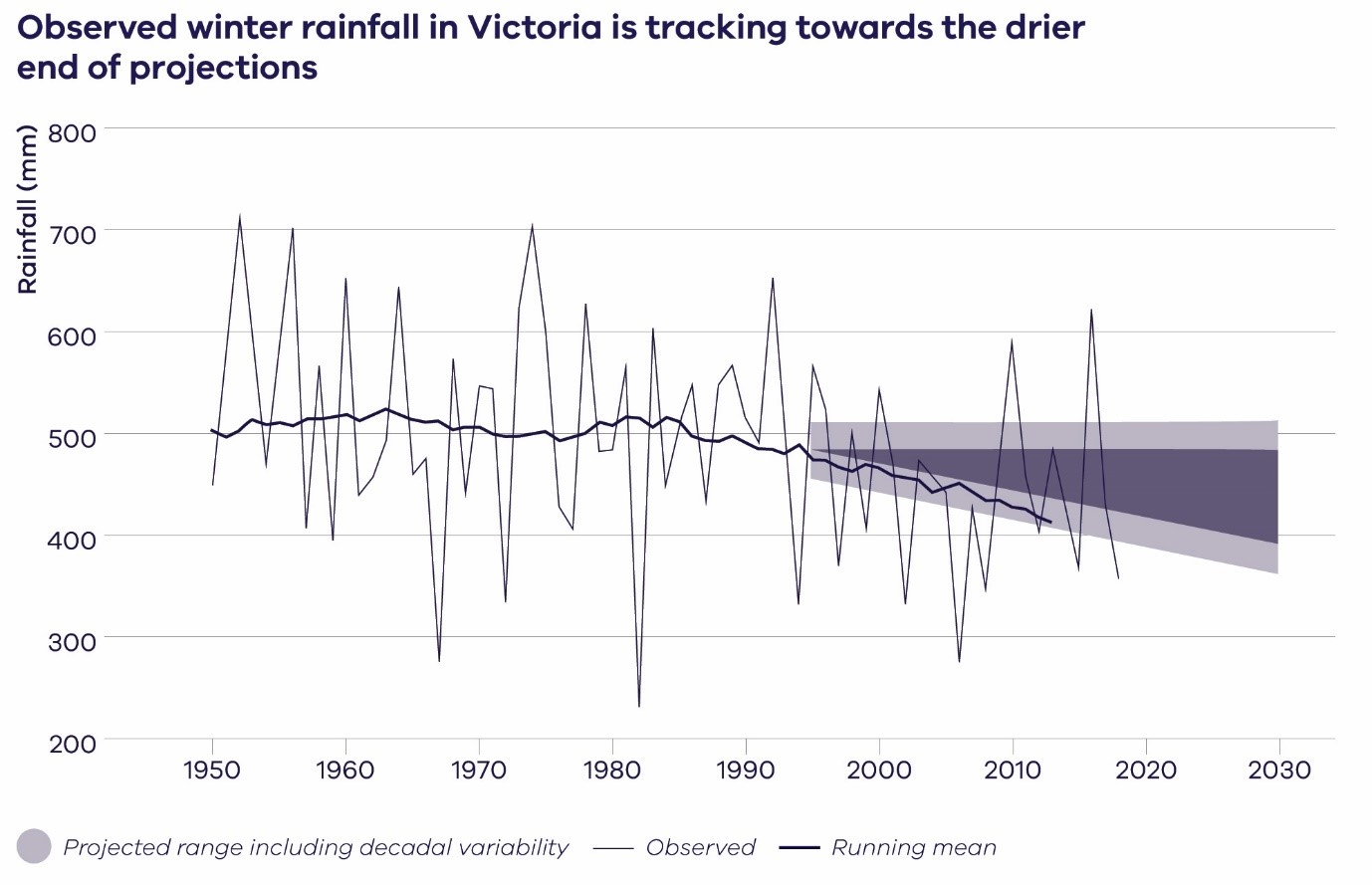 Projections for Victoria indicate the state is likely to become hotter and drier in the future, but the timing and extent of changes will vary across regions. Find out more about the projected changes for your region.
By the 2050s, if the current rate of global warming continues, Victorian towns could experience around double the number of very hot days each year compared to the 1986-2005 average.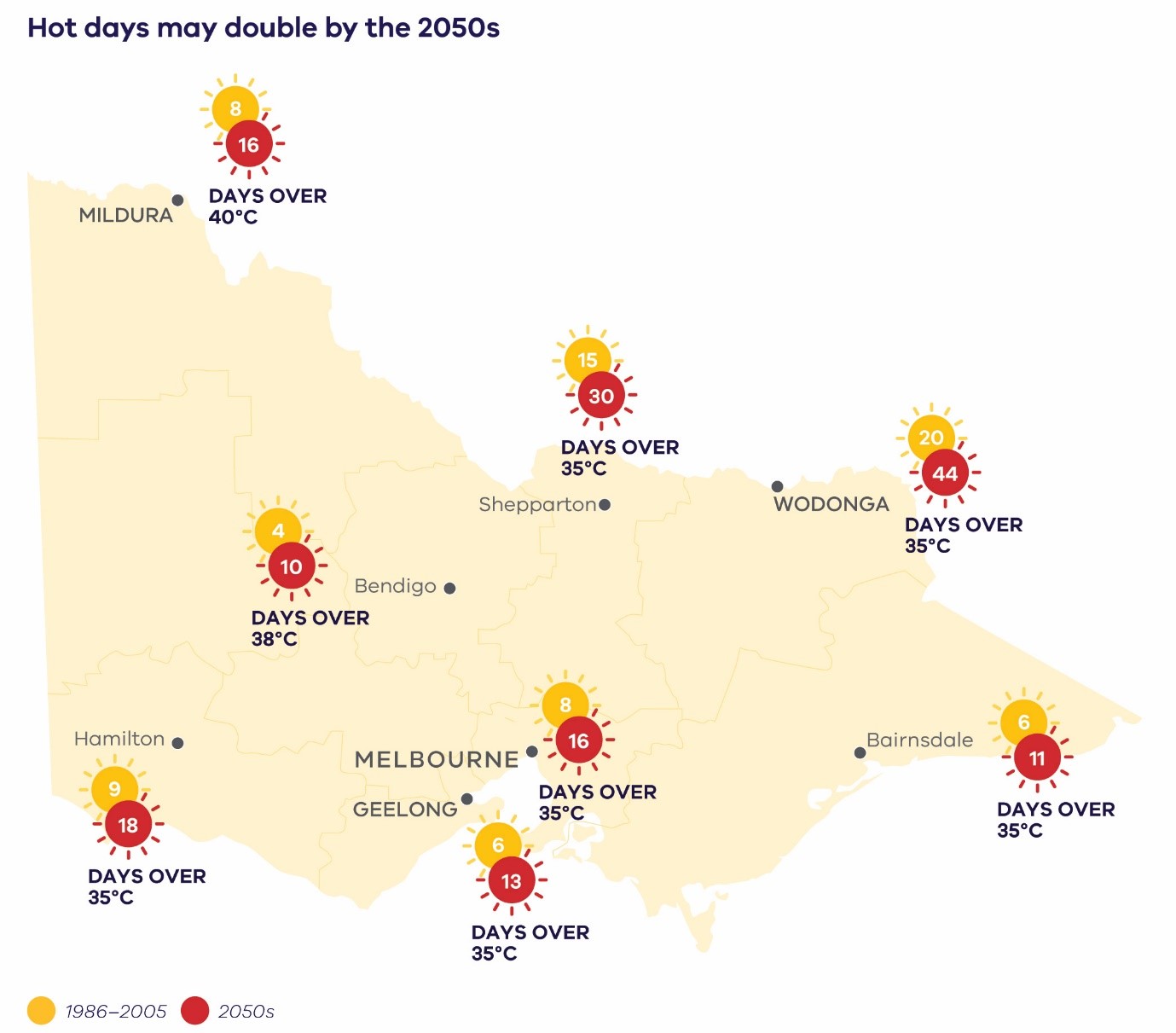 Annual rainfall is projected to decrease across the state, but when extreme rainfall events do occur, they are likely to be more intense.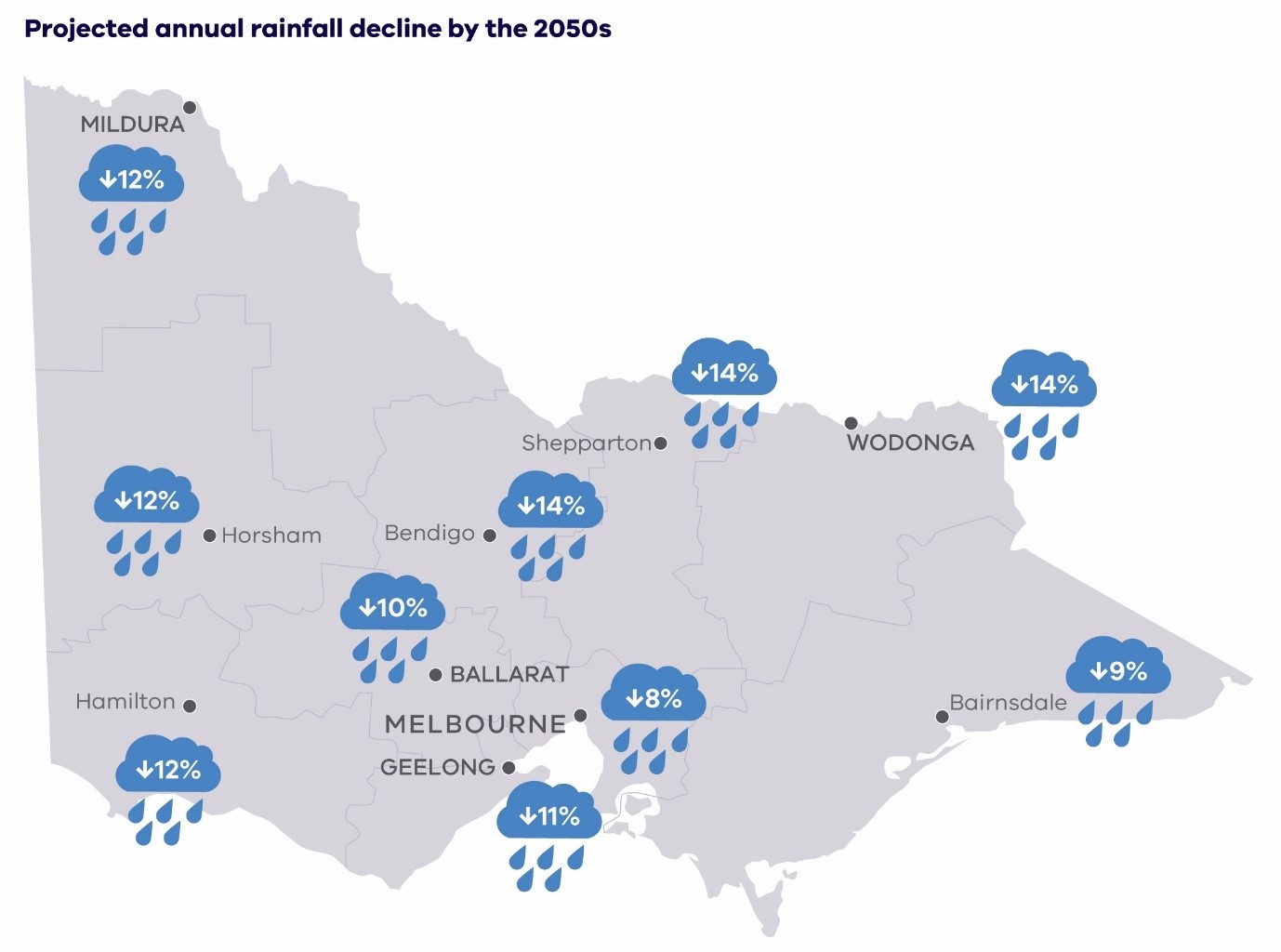 Average decline in annual rainfall in percent for locations across Victoria for the 2050s under high emissions scenario (RCP 8.5) compared to 1986–2005 (CSIRO, 2019).
Victorian alpine areas are also projected to continue to experience declining snowfall (35-75% by the 2050s under high emissions) (Harris et al 2016).
Victoria is likely to have a longer fire season with the number of very high fire danger days likely to continue to increase. By the 2050s under high emissions Bendigo, Ballarat and Shepparton show over a 60% increase in the number of high fire danger days compared to 1986–2005 (CSIRO, 2019).
Sea levels along the Victorian coast are also likely to continue to rise.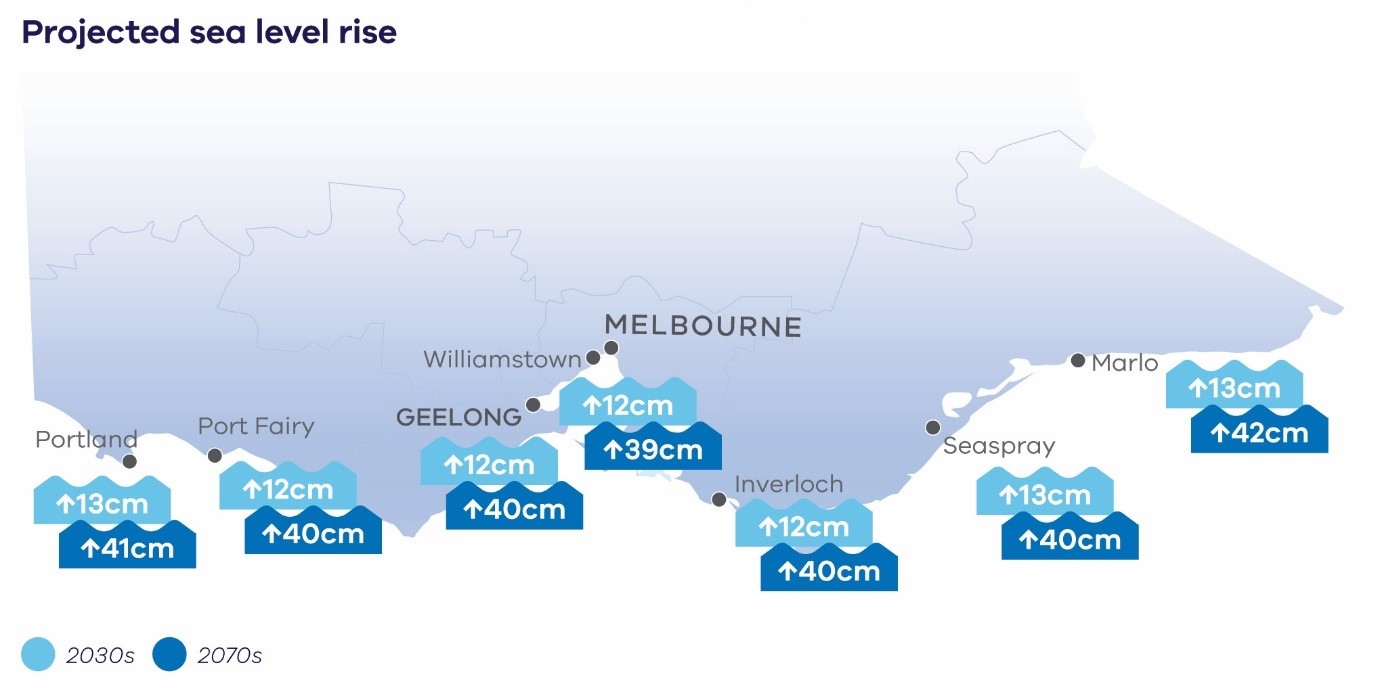 Sea level rise projections (cm) relative to the baseline (1986–2005) for key Victorian locations under high (RCP8.5) emissions scenarios for the 2030s and the 2070s. (CSIRO and BoM, 2015)
Page last updated: 06/11/20