Implementation of an environmental performance cycle can support compliant FRD 24 reporting through continuous improvement of environmental management and the management of climate-related risks.
The environmental performance cycle commences with a commitment to improve environmental performance. This is implemented through a cycle of planning, doing, checking and taking action to which the elements of FRD 24 compliant reporting are aligned. This approach aligns with the Plan-Do-Check-Act cycle that informs many internationally recognised standards such as ISO 14001 Environmental Management, ISO 31000:2018 Risk Management and ISO 9001 Quality Management.
The FRD 24 Environmental Performance Cycle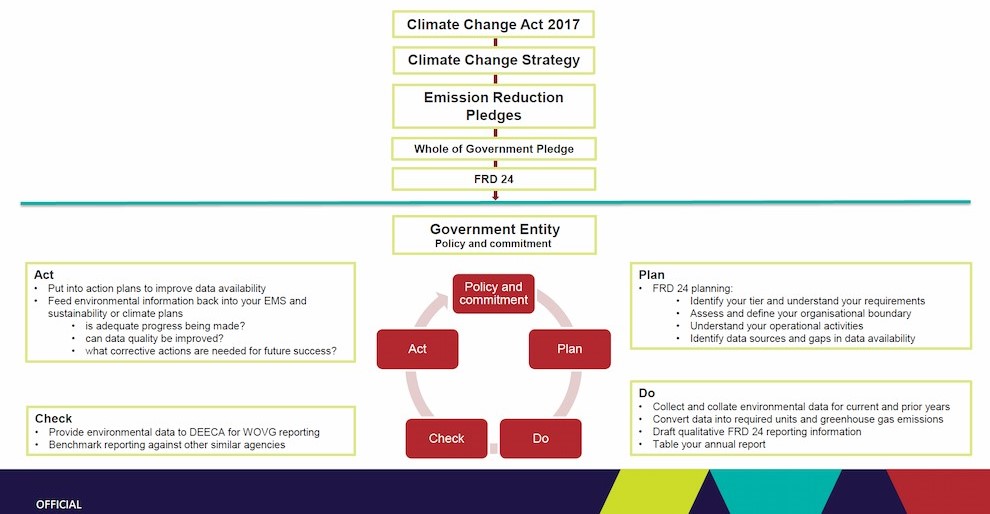 Plan
The planning phase enables entities to prepare for successful FRD 24 reporting. This involves understanding your reporting requirements, assessing your organisational boundaries and operational activities, and developing a detailed understanding of your data sources and data gaps for FRD 24 reporting.
Do
The doing phase puts into action your plan to collect, collate and analyse data. This involves collecting the required data and information, preparing your quantitative and qualitative disclosures for FRD 24 reporting, and finalising your reporting information in accordance with the Annual Reporting process.
During the planning phase you will have identified appropriate data sources for the relevant indicators for your organisation.
Some environmental indicators that require normalisation. These include E4 (units of energy used); W2 (units of metered water consumed); and WR3 (total units of waste disposed). The purpose of normalization, in this context, is to generate a comparable data set over time when changing factors could impact on how the information is interpreted. You should choose an appropriate normalisation factor that is meaningful and relevant for your organisation. Appropriate normalisation factors may include FTE (Full Time Equivalent), headcount, floor area, or passenger kilometres.
To enable an analysis and explanation of trends in data you should report at least two prior years of data, where information is available. For some indicators or activities you may have data or estimates for the current year available, but lack data or estimates for prior years. Where this applies to a whole indicator you can insert a "nc" or similar into the table (with a footnote of "nc = not collected"). Where this applies to an activity, that is data for a particular indicator is now more complete, you can disclose this in table footnotes or note it as a driver behind trends for a particular indicator.
For further information see:
You are encouraged to use the DEECA Environmental Data Reporting Tool, to collate and analyse your FRD 24 data. The tool is updated with the correct emissions and conversion factors, and can import some data from central contracts. This tool outputs FRD 24 compliant tables and enables you to easily provide your data to DEECA for incorporation into the WOVG emissions inventory.
If conducting your own analysis and conversion of data, or engaging a consultant, ensure that data is converted into the correct units for FRD 24 reporting, as specified in FRD 24, and that the current emissions factors are used. Current emissions factors can be found on the Federal Department of Climate Change, Energy, the Environment and Water National Greenhouse Accounts Factors webpage. For the calculation of scope 2 emissions you should use Climate Active's Electricity Accounting Guidance.
For further information see:
Guidance for FRD 24 Reporting pages 8-39.
The structure of your reporting information will depend upon the reporting requirements for your tier, however guidance for tier 1 entities is provided in the Model Report for Victorian Government Departments.
Alongside the quantitative data in your annual report you should include contextual information to aid interpretation. Use the qualitative disclosure to discuss changes and trends, new environmental programs or activities, how progress is tracking towards any targets and any major data sources, such as an environmental data management system.
Table footnotes should be used to disclose any details relevant to data availability, methods used to calculate estimates, or activities that will improve data availability over time etc. It is important that any estimates be clearly identified and disclosed as such, to distinguish between actual and estimated data.
For further information see:
Check
The check phase is about reviewing environmental performance and identifying opportunities to improve environmental performance. It involves harnessing the insights gained through your environmental reporting activities and using this information to inform your entity's future business decisions.
A good way to check your environmental performance is to compare your annual report disclosure to that from similar agencies when annual reports are tabled each year. This can help you identify opportunities for improvement in both the collection of environmental data and in mitigating your environmental impact.
To help prepare whole of Victorian Government emissions inventories government entities are requested to supply machine readable data (ie. in an excel workbook or csv file) to DEECA. If you are using the Environmental Data Reporting Tool you can supply a copy of that workbook (or the Export Data Table). Please email this to environmental.reporting@delwp.vic.gov.au
Act
The act phase is about actioning opportunities to improve environmental performance and supports continuous improvement in the way climate-related risks and opportunities are managed by government entities. This can be achieved through:
Putting into action plans to improve data availability for future FRD 24 reporting
Feeding back environmental information into your strategic and operational planning
Reviewing the inclusion of climate-related risks on your organisation's risk register
Page last updated: 30/08/23