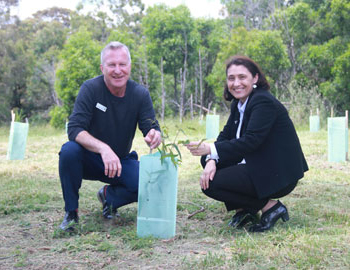 Parcels of Victorian Crown land are being reforested as part of Victoria's first pilot carbon sequestration agreement under Part 5 of the Climate Change Act 2010.
This agreement grants not-for-profit carbon offset organisation, Greenfleet Australia, access to 21 hectares of cleared Crown land in the Police Paddocks Reserve in Dandenong and Lysterfield Park in Narre Warren, to plant native trees for carbon storage. These areas are managed by Parks Victoria.
These plantings will store an estimated 9,820 tonnes of carbon over the next 100 years– the equivalent of removing more than 2,000 medium-sized cars from the roads for one year.
Minister for Energy, Environment, and Climate Change Lily D'Ambrosio visited the site last week with representatives of Greenfleet, Parks Victoria and DELWP to mark the commencement of this landmark agreement.
Under the pilot carbon sequestration agreement, Greenfleet is planting 20,000 young seedlings, including eucalypts, wattles, tea trees, she-oaks and paperbarks, to restore native bushland.
Reforestation helps reduce greenhouse gas emissions and also provides habitat for native wildlife and contributes to cleaner air and water and a healthier environment.
Although there are a number of vegetation projects across Australia that sequester carbon on public and private land, this pilot agreement breaks new ground as it is the first time that a third party is assigned a legal right to the carbon sequestered in vegetation on Crown land.
The agreement lasts for 100 years, which ensures the trees are protected and enough carbon can be collected to offset the emissions.
Find out what you can do to help Victoria reach its target of net zero emissions by 2050 at take2.vic.gov.au