Where Victoria's emissions come from
The main source of Victoria's emissions is burning fossil fuels – like coal, oil, and gas – for energy and transport. In 2019, the energy sector accounted for 70% of Victoria's emissions, transport was responsible for 25%, agriculture contributed 17%, industrial processes and product use 4%, and the waste sector a further 4% of Victoria's emissions.
Victoria's forests and natural systems absorb carbon dioxide (CO2) as trees grow and release greenhouse gases when trees are removed. In 2019, the sector absorbed significantly more carbon dioxide (CO2) than it released. Overall, the sector absorbed around 19% of Victoria's emissions in 2019.
Victoria's total net emissions are the sum of emissions from all sectors minus net absorption by the Land Use, Land Use Change and Forestry (LULUCF) sector. In 2019, the state's total net emissions were 91.3 million tonnes of carbon dioxide equivalent (Mt CO2-e).
There is a 2-year lag between each reporting year and when the data is available for use. Victoria's latest greenhouse gas emissions data, published in 2021, is for the 2019 reporting year.
Victoria's greenhouse gas emissions by sector in 2019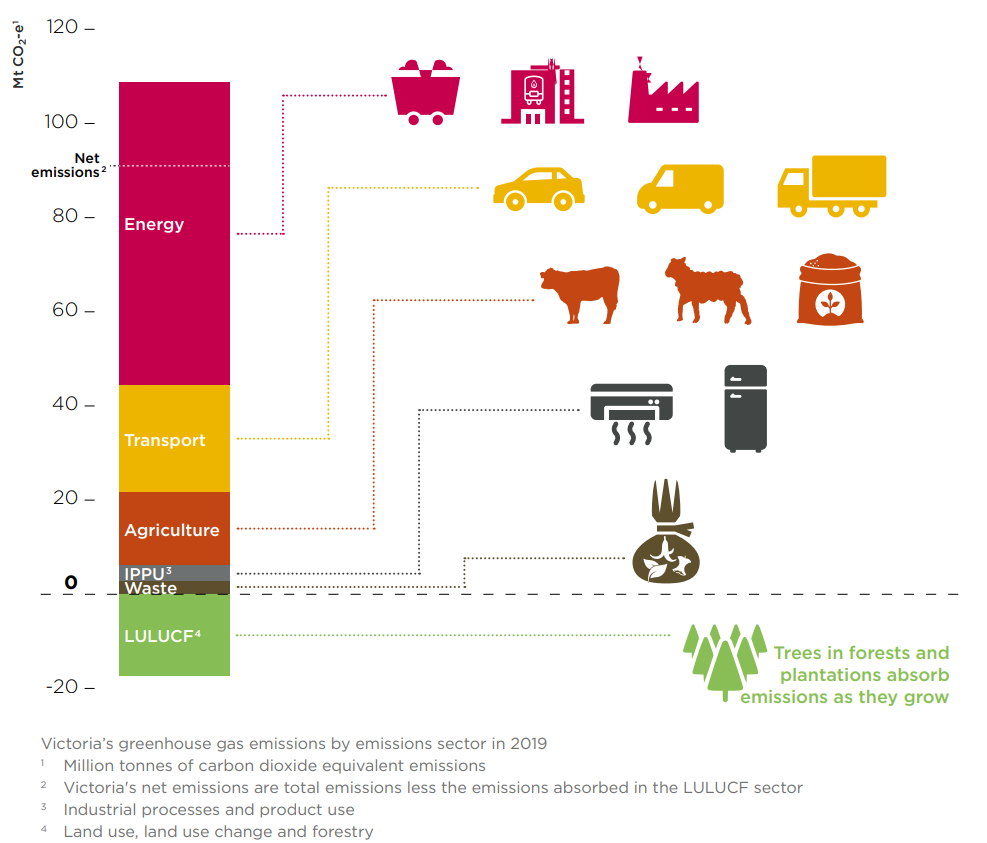 Progress towards net zero emissions by 2050
Victoria's emissions fell 24.8% (30.1 Mt CO2-e) between 2005 and 2019. This means Victoria's target to reduce emissions by 15 to 20% below 2005 levels by 2020 has been met ahead of schedule and then beaten.
Victoria's emissions reductions and targets for emissions reductions are measured against the level of emissions in 2005, as required by the Climate Change Act 2017.
Victoria's greenhouse gas emissions reduction targets
Victoria's Climate Change Act 2017 establishes a long-term target of net-zero greenhouse gas emissions by 2050. The Act also requires 5-yearly interim emissions reduction targets to be set to keep Victoria on track to meet the state's long-term target of net-zero.
Victoria's interim target for the period 2021–2025 is for emissions to reduce 28–33% below 2005 levels by the end of 2025.
The interim target for the period 2026–2030 is for emissions to reduce 45–50% below 2005 levels by the end of 2030.
Targets provide certainty for investors and the business community and will help create jobs in clean energy, land restoration, zero-emissions transport, and the circular economy. Victoria's 2030 target confirms our position among leading jurisdictions around the world, such as the United States and the European Union.
The process has begun to set Victoria's next target, for 2035 - with a Panel established to provide independent, expert advice (see below). The 2035 target will be set in 2023.
During June and July 2019, following the release of independent expert advice on interim targets, the government invited input from Victorians to inform its decision on targets and identify priority actions to reduce emissions.
Please visit Engage Victoria to view the results of that consultation.
As required by Victoria's Climate Change Act 2017, many factors were considered when setting greenhouse gas emissions targets, including the latest climate science, the opportunities available to Victoria to act, reaching Victoria's legislated target of net-zero emissions, the advice of the Independent Expert Panel on Interim Emissions Reduction Targets and the economic and social impacts of acting at a given time and in a particular manner.
The document Victoria's Climate Change Strategy: Economic Analysis (PDF, 2.9 MB) sets out the evidence on the economic impacts of the interim targets for 2025 and 2030 and the supporting policies. It brings together several pieces of analysis that cover different aspects of relevant benefits and costs.
This table outlines the remaining interim target periods to 2050 and when each interim target must be set. After a target has been set, the decision must be tabled in Parliament within 10 sitting days.
Future interim targets
| TARGET PERIOD | TARGET MUST BE SET (ON OR BEFORE) |
| --- | --- |
| 1 Jan 2031 – 31 Dec 2035 | 31 March 2023 |
| 1 Jan 2036 – 31 Dec 2040 | 31 March 2028 |
| 1 Jan 2041 – 31 Dec 2045 | 31 March 2033 |
| 1 Jan 2046 – 31 Dec 2050 | 31 March 2038 |
Independent expert advice on interim targets
The Climate Change Act 2017 requires the Minister for Energy, Environment and Climate Change to seek independent expert advice to inform the setting of interim emissions reduction targets to set Victoria on a path to achieving net-zero emissions by 2050.
Independent advice on 2035 emissions reduction target
The Minister for Energy, Environment and Climate Change has appointed an independent expert panel to provide advice on an interim target for 2035, with Martijn Wilder AM as Chair and members Emma Herd and Tennant Reed.
The Panel must deliver its advice by 1 March 2023 and this advice will be tabled in the Victorian Parliament within 10 sitting days.
The Panel's advice on a 2035 emissions reduction target will be informed by the views of the public. Visit Engage Victoria between 13 April and 22 May 2022 to share your views on a 2035 emissions reduction target for Victoria, and ideas for how we can reach that target.
The Panel's terms of reference are guided by the Climate Change Act 2017. Their advice must include options for a 2031-2035 interim target, likely pathways to net zero emissions by 2050, and ways to achieve the targets.
Martijn Wilder AM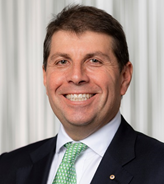 Martijn is a founding partner of Pollination, a specialist climatechange advisory and investment firm accelerating the transition to a net zero, climate resilient future. Prior to this, Martijn was the founder and for 20 years the head of the Global Climate Change practice of Baker McKenzie, focused on climate law and finance. Martijn was also formerly Chair of the Australian Renewable Energy Agency (ARENA) and a founding Director of the Clean Energy Finance Corporation. He also helped establish and later Chair the Federal Government's Low Carbon Australia finance body.
He currently holds positions as President of WWF-Australia, is a Governing Board Member of the Renewable Energy and Energy Efficiency Partnership (REEEP) and Adjunct Professor of International Climate Change Law at Australian National University. Martijn was a Cambridge Commonwealth Trust Scholar and awarded an Australian Honour (AM) for his contribution to climate change law and the environment, and was winner of the 2018 Financial Times Asia Pacific Legal Innovator of the Year.
Emma Herd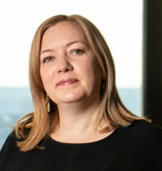 Emma is Partner in EY Climate Change and Sustainability Services. She has 20 years' experience in climate change and sustainability practice, and is a known figure in the Australian and global climate change arena having worked across industry, banking, finance, policy and advocacy.
Emma was formerly Chief Executive Officer of the Investor Group on Climate Change (IGCC) and non-executive director of the Carbon Market Institute. Emma is a member of the Queensland Climate Change Advisory Council, the Green Building Council of Australian GreenStar Advisory Committee, and the Queensland Land Restoration Fund Investment Panel. She is a regular media contributor on climate matters, and a respected voice on climate transition implications for business.
Tennant Reed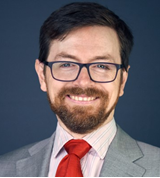 Tennant is Principal National Adviser on Public Policy at Ai Group. Tennant has been deeply involved in Australian climate and energy issues since 2008, advising Ai Group's Leaders' Group on Energy and Climate Policy, coordinating joint research and advocacy with wider energy stakeholders, facilitating the Australian Climate Roundtable and developing reports on energy prices, carbon border adjustments and business energy use. Tennant has also advised Ai Group on a range of issues related to manufacturing and innovation.
Previously, Tennant was an adviser in the Department of Prime Minister and Cabinet, working on fiscal policy, stimulus and infrastructure.
Past process: Independent advice on the 2025 and 2030 emissions reduction targets
The Minister for Energy, Environment and Climate Change took advice from an independent expert panel on interim targets for 2025 and 2030.
Greenhouse gas emissions resources
The Victorian Government publishes a report every year on Victoria's greenhouse gas emissions. The report uses emissions data prepared by the Commonwealth Department of Industry, Science, Energy and Resources (DISER), in accordance with internationally agreed rules.
To learn more about Victoria's emissions and how we are tracking towards net-zero emissions by 2050, see the following resources.
Downloads
Previous editions of the Greenhouse Gas Emissions Report are available:
Emissions data published by the Commonwealth, including descriptions of emissions accounting methodologies:
Annual inventory methodology updates
DISER reviews and, as necessary, revises national and state/territory greenhouse gas data annually to ensure the data is produced using the latest international methodologies; and to reflect improved estimation methods and new sources of information.
To maintain consistency of data series across time, when revisions occur, past emissions estimates are recalculated for all years in the historical record to 1990.
For the 2019 report, the most significant updates include:
Soil carbon – improved modelling of soil carbon processes and soil factors (such as the decomposition rate of materials in soils); and a move to smooth data over 5 rather than 10 years in relevant LULUCF categories
Harvested native forests – use of more accurate spatial modelling of forests and improved historical harvesting data from VicForests
Hydrofluorocarbons (HFCs) refrigerants – improved data on the rates of leakage of refrigerants from equipment and appliances, and the rate of retirement of equipment and appliances
Global warming potentials (GWP) – GWP values have been updated to those published in the IPCC's Fifth Assessment Report (AR5) for a 100-year time horizon (previous reports applied GWP from the IPCC's Fourth Assessment Report).
Appendix A of the Victorian Greenhouse Gas Emissions Report 2019 provides further details of these and other updates.
Contact us
Contact us via email climate.change@delwp.vic.gov.au
Page last updated: 13/04/22