The Government will seek to reduce the state's greenhouse gas emissions by 15 to 20 per cent (from 2005 levels) by the year 2020, setting Victoria on the path to net zero emissions by 2050.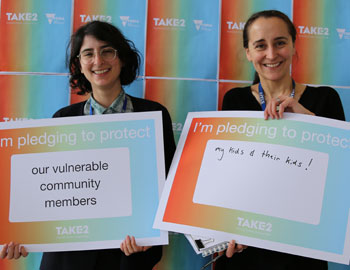 Actions by the Victorian and local governments, business and individuals as part of Victoria's TAKE2 climate change pledge program will contribute to meeting the new target.
DELWP and other Government departments will reduce emissions from their operations by 30 per cent (from 2015 levels) by 2020.
Since its launch in June 2016, the TAKE2 program has received over 2,400 pledges in total, including:
29 local governments representing more than 3 million Victorians
school and tertiary institutions with more than 240,000 students
80 community groups with more than 180,000 members
224 businesses with a total annual revenue of more than $209 billion and more than 229,000 employees
See Victoria's vision for a net zero emissions, climate-resilient Victoria – and how we will get there – in Victoria's Climate Change Framework.
See the actions the Government is taking to reduce emissions in TAKE2 – Acting Now on Climate Change.